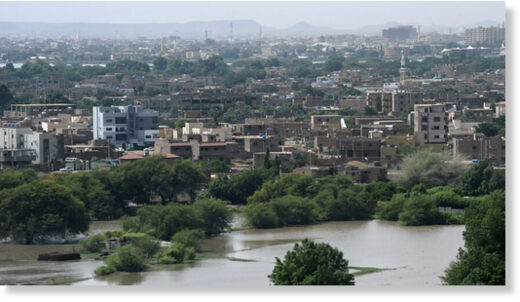 Sudan's Ministry of Irrigation and Water Resources said July 26 that the
Blue Nile water flow rose from 100 million cubic meters to 400 million cubic meters.
The ministry noted in a statement that as the fall season approaches and rainfall averages on the Ethiopian plateau increases, the
Blue Nile water levels have already increased significantly in the Roseires, Singa, Sennar, Wad Madani and Khartoum water treatment plants.
The Sudanese concerns of floods coincide with Ethiopia announcing that it has completed the filling of the Grand Ethiopian Renaissance Dam (GERD) reservoir, without disclosing the volume of water stored.
Speaking to Al-Monitor, former Egyptian Minister of Irrigation Mohammed Nasr Allam said that the Sudanese floods caused heavy losses this year despite the limited water quantities, following the unilateral filling of the GERD and amid lack of information provided on the dam. He said Ethiopia did not coordinate over the GERD filling and operation with any of the concerned parties, and thus Sudan could not take the necessary measures to deal with possible floods or high water levels of the Blue Nile.
On July 24, Sudanese media reported that the floods in al-Fao, in Gedaref state, displaced more than 10,000 families, submerged nearly 20,000 houses, damaged hundreds of tons of wheat stocks and caused a total of 1 trillion Sudanese pounds (about $2.2 billion) in losses in several sectors, according to preliminary estimates in al-Fao.