Spanish and German researchers have carried out a collaborative study that shows how during the last glacial period, small variations in the surface winds could have induced significant changes in the oceanic currents of the North Atlantic, and could even have played a role in the abrupt climate change that occurred at the time.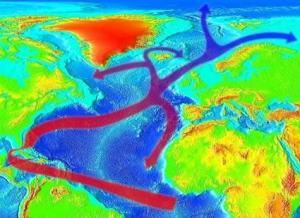 ©Andrew Ryzhkov
The North Atlantic circulation is part of thermohaline circulation that globally affects oceanic waters.
Scientists from the Complutense University of Madrid (UCM) and the Potsdam-Institute for Climate Impact Research in Germany have carried out a study which identifies small alterations in the superficial sea winds as the factors with a key role in the abrupt climatic change that occurred over the last glacial period whose origin is not yet fully understood.
This study, carried out by researchers Marisa Montoya and Anders Levermann, concluded that there is a precise point from which a small variation in the speed of sea winds corresponds to a dramatic change in the Atlantic circulation intensity. According to Marisa Montoya, "If the glacial climate had been in the vicinity of that point, small wind changes could have caused sudden and significant climatic changes during that period".