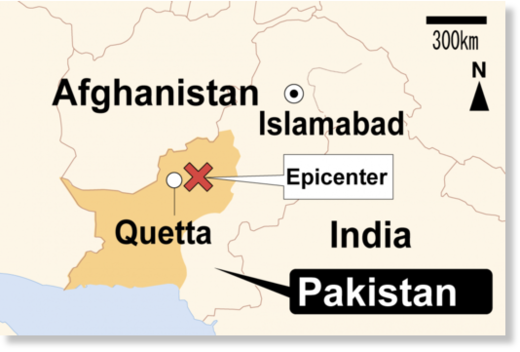 A magnitude 5.9 earthquake struck southwestern Pakistan early Thursday, killing at least 20 people and leaving 300 others injured, according to local authorities.
The quake occurred 15 kilometers northeast of Harnai in Balochistan Province at 3:01 a.m. local time at a
depth of 9 km,
according to the U.S. Geological Survey. It was followed by a magnitude 4.6 quake in the same area two hours later.
The death toll is feared to rise as people are believed to have been buried under collapsed homes and other buildings. Rescue efforts are reportedly being hampered as roads have become impassable due to landslides.
The Provincial Disaster Management Authority in Balochistan said at least 300 people were brought to hospitals after the quake, including those critically injured.