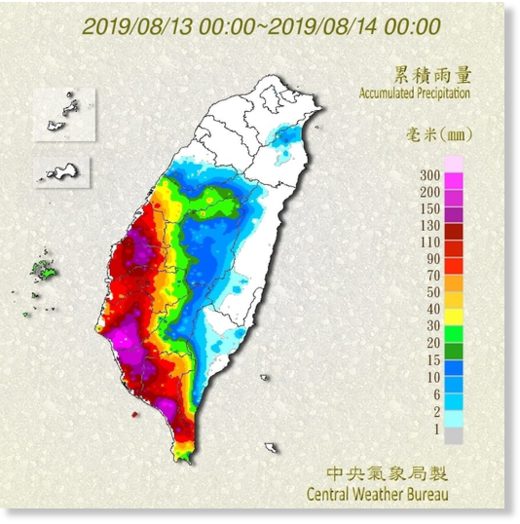 Torrential rain has caused severe flooding in southern and western areas of Taiwan. Some areas recorded around
300mm of rain in 24 hours
to 13 August, 2019.
Taiwan's Central News Agency reported that one person died on 13 August after being swept away by floodwaters in Kaohsiung. Classes were cancelled and government offices closed. Almost 4,000 households in the city were left without power.
Taiwan's Central Weather Bureau (CWB) issued extremely heavy rain advisories (more than 200mm in 24 hours)
for Miaoli County, Changhua County, Nantou County, Yunlin County, Chiayi City, Chiayi County, Tainan, Kaohsiung and Pingtung County early on 13 August.
Water Resources Agency (WRA) issued flood warnings for the Changhua, Yunlin, Kaohsiung and Tainan areas.