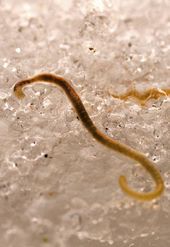 Who knew snow could be so creepy? And crawly.
Bill Thornton of Port Orchard certainly didn't, until he noticed something in his parents' backyard early Christmas morning.
"The more I looked, the more I found, and they were literally crawling up out of the snow," he said.
Worms - "snow worms," as he's started calling them - squiggled by the thousands atop the backyard snow.
That discovery launched Thornton on an odyssey as he tried to figure out what the worms are and where the came from.