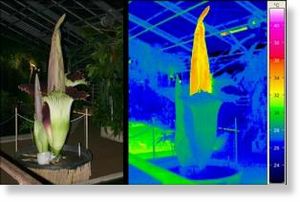 You would think a flower that resembles a 3-metre phallus would have no problems attracting attention, especially if it also stinks like a rotting corpse.
But for the carrion flower, which has the world's largest flowering head, getting noticed by flesh-eating insect pollinators in its jungle home requires yet another amazing adaptation - and one that only came to light thanks to a serendipitous TV recording.
"The film crew was using very strong backlighting and suddenly we saw smoke rising up along the flower's central column. We thought the plant was on fire," says Wilhelm Barthlott from the University of Bonn in Germany.
The 'smoke' turned out to be steam that is puffed out in regular pulses, coinciding with waves of carrion scent. "We had wondered before why one moment the flower would stink like a dead donkey, and a little while later there would be hardly any smell. It never occurred to us that there was cyclic odour production."