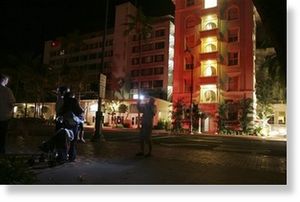 HONOLULU - Crews gradually restored electrical service across parts of Oahu on Saturday after a power failure blacked out the island's population of about 900,000 people and thousands of tourists including vacationing President-elect Barack Obama.
Residents were urged to stay home after the lights went out during a thunderstorm Friday evening and to conserve water.
Hawaiian Electric Co. spokeswoman Jan Loose said power had been restored to about 113,000 customers as 6 a.m., mostly on the west side of the island. The utility serves a total of 295,000 homes and businesses.
She said power to neighborhoods on the eastern shore, where Obama was staying with his family, would likely not be restored until later Saturday.