Blaze near Austin is still raging out of control and has burned 600 homes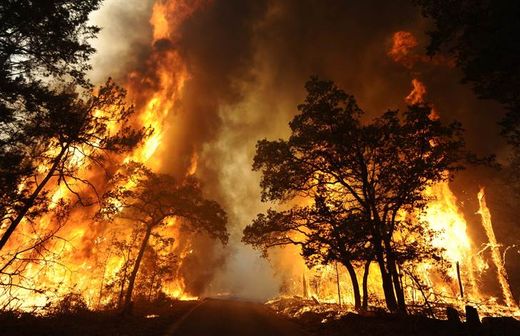 One of the most devastating wildfire outbreaks in Texas history left more than 1,000 homes in ruins Tuesday and stretched the state's firefighting ranks to the limit, confronting Gov. Rick Perry with a major disaster at home just as the GOP presidential contest heats up.
More than 180 fires have erupted in the past week across the rain-starved Lone Star State, and nearly 600 of the homes destroyed since then were lost in one catastrophic blaze in and around Bastrop, near Austin. That blaze raged out of control Tuesday for a third day.
Whipped into an inferno by Tropical Storm Lee's winds over the weekend, the blaze burned at least 40 square miles, forced the evacuation of thousands and killed at least two people, bringing the overall death toll from the outbreak to at least four.
"We lost everything," said Willie Clements, whose two-story colonial home in a neighborhood near Bastrop was reduced to a heap of metal roofing and ash. A picket fence was melted. Some goats and turkeys survived, but about 20 chickens and ducks were burned to death in a coop that went up in flames.