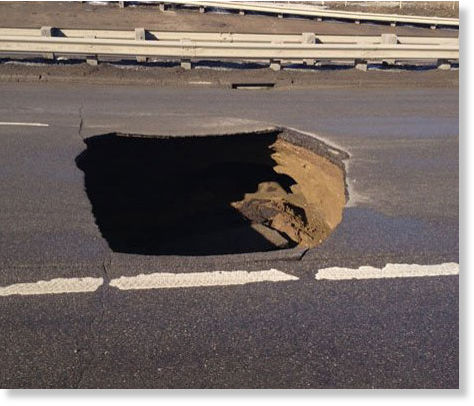 Canada - A sinkhole large enough to drive a car into opened up on a major Saskatchewan road causing traffic chaos.
The three-metre wide chunk of road opened up on Idylwyld Drive north of 39th Street just before 9 a.m. Monday forcing thousands of motorists to take several detours.
It was caused by a break in a 20-centimetre pipe under the road causing water to swirl beneath the asphalt and led to the sinkhole.
"They are totally unpredictable," said public works manager Pat Hyde
to the Saskatoon Star Phoenix
. "This could have been happening for days or weeks."
The city received no reports of vehicles falling into the hole, but one
commenter
on Yahoo! Canada News joked, "I lost my car in there. It's on top of the Jeep, and under the BMW."
Holes are created because freezing and thawing cycles put pressure along underground pipes causing them to become weak and break. Snow melts forcing moisture into the cracks of roads and when it freezes it expands and makes the small cracks into bigger holes. The warmer winter across much of Canada is resulting in potholes being spotted earlier than normal.