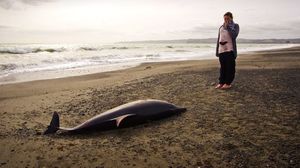 A new study of dolphins living close to the site of North America's worst ever oil spill - the BP
Deepwater Horizon
catastrophe two years ago - has established serious health problems afflicting the marine mammals.
The report, commissioned by the National Oceanic and Atmospheric Administration [NOAA], found that many of the 32 dolphins studied were underweight, anaemic and suffering from lung and liver disease, while nearly half had low levels of a hormone that helps the mammals deal with stress as well as regulating their metabolism and immune systems.
More than 200m gallons of crude oil flowed from the well after a series of explosions on 20 April 2010, which killed 11 workers. The spill contaminated the Gulf of Mexico and its coastline in what President Barack Obama called America's worst environmental disaster.
The research follows the publication of several scientific studies into insect populations on the nearby Gulf coastline and into the health of deepwater coral populations, which all suggest that the environmental impact of the five-month long spill may have been far worse than previously appreciated.
Another study confirmed that zooplankton - the microscopic organisms at the bottom of the ocean food chain - had also been contaminated with oil. Indeed, photographs issued last month of wetland coastal areas show continued contamination, with some areas still devoid of vegetation.