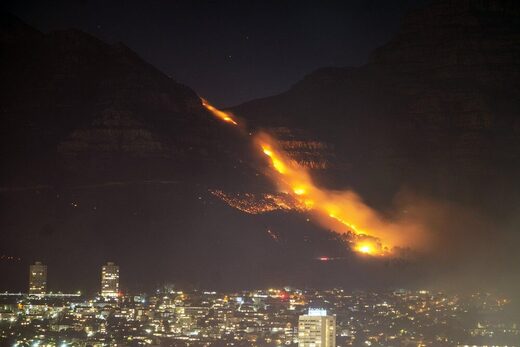 Firefighters in Cape Town finally brought a wildfire under control Monday after
it swept across the slopes of the city's famed Table Mountain, burning the university's historic library
and forcing the evacuation of some neighborhoods.
The smoldering fire is being watched for flareups amid high winds and hot, dry conditions.
City authorities said the fire, which started early Sunday, was "largely contained" more than 24 hours later.
The fire had already badly damaged the library and other buildings on the campus of the University of Cape Town on Sunday, as well as other historic buildings nearby
. Fueled by the high winds, it spread through the wild bush on the mountain slopes toward the city's center and the surrounding residential areas.
Devil's Peak, one of the iconic points of the mountain which overlooks downtown Cape Town, was lit up by flames as the fire raged through the night. Residents of suburbs on the mountain slopes were evacuated early Monday as the blaze came dangerously close to their homes.