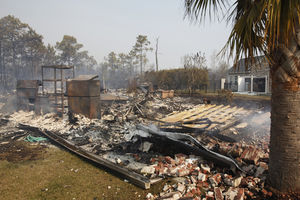 A study in contrasts, a pristine slate house on Woodlawn Drive stands in front of a landscape of charred trees and blackened soil.
The burned soil sits within 15 feet of the home's neat garden, and firefighters huddle near a truck watching the smoldering plumes, vigilant in case they should flare.
With a total of 76 homes destroyed in a wildfire that began Wednesday afternoon, emergency workers focused Saturday on continued containment and preventing refires.
At about 8 p.m. Saturday about 85 percent of the blaze was contained, said spokesman Scott Hawkins, with the state forestry commission. Most major roads except S.C. 31 have been reopened and all shelters have closed.
The reported number of acres damaged fell from about 20,500 acres to 19,600 acres Saturday due to better access to geographic informations system mapping data, Hawkins said.