Two days of torrential rain have left large parts of northwestern Switzerland and the central plateau region under water.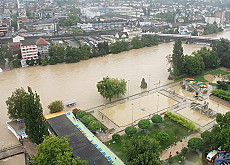 ©Keystone
The River Aare flooded parts of Olten in northern Switzerland.
By Thursday evening the levels of most affected lakes and rivers appeared to have peaked, but the situation in many areas, particularly along the River Aare, remained critical.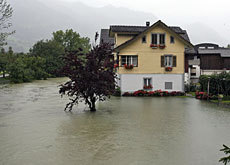 ©Keystone
The River Sarneraa burst its banks at Sarnen in canton Obwalden.
The storms, the worst since the severe floods of 2005, led to chaos on the roads, with many closed as a result of flooding or landslides. Rail traffic was also hit.