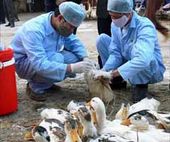 Hong Kong: A dead goose and two dead ducks found on a Hong Kong island last week have tested positive for the deadly H5N1 strain of bird flu, officials said on Wednesday.
The birds were found on January 29 and 31 on a beach on Lantau island and preliminary tests showed they had tested positive for H5 avian influenza.
Further tests confirmed it was the H5N1 strain of the virus, a spokesman for the Agriculture, Fisheries and Conservation Department said in a statement.