Spinner dolphins have long been known for their teamwork in capturing prey but a new study using high-tech acoustics has found that their synchronization is even more complex than scientists realized and likely evolved as a strategy to maximize their energy intake.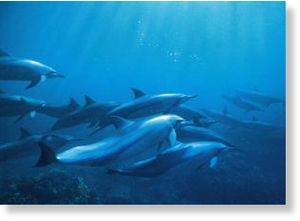 The study, by scientists at Oregon State University and the University of Hawaii, found that dolphins engage in a highly choreographed night-time "dance" to enclose their prey, and then dart into the circle of confused fish in organized pairs to feed for about 15 seconds, before backing out and letting the next pairs in line take their turn.
Results of the study were published this week in the journal,
Acoustical Society of America
.
"Synchronized swimmers have nothing on spinner dolphins," said Kelly Benoit-Bird, a marine ecologist at Oregon State University and lead author on the study. "The degree of synchrony they display when feeding is incredible - especially considering that they're doing it at night, several meters below the surface where they can't see their prey or each other."