The death toll from monsoon-related accidents reached 800 and two million people have been displaced by flooding following heavy rains across India, officials said on Sunday.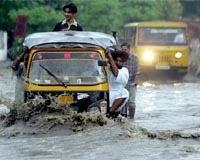 ©AFP
Indian commuters make their way through a waterlogged street after a heavy downpour flooded parts of Amritsar on August 12, 2008. Heavy downpours of rain continue to cross northern India as the south-west monsoon travels across the Indian sub-continent.
At least 26 people died in overnight accidents in northern Uttar Pradesh, taking the toll to 686 in the country's most populous state since the monsoon struck in June, Relief Commissioner G. K. Tandon said.
"Several districts are receiving continuous rains for the past month and a half," Tandon said in the state capital Lucknow as local aid agencies backed by World Health Organisation staff rushed emergency supplies to those affected.
Tandon put the number of people hit by the floods at 1.29 million and said 3,000 villages were swamped in Uttar Pradesh, in monsoon damage he described as "unprecedented".