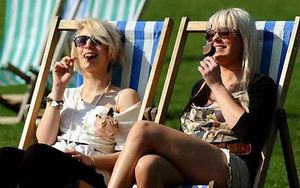 TS Eliot said it was "the cruellest month" but this April is proving rather kind, with forecasters saying it could be the warmest for a decade.
The Met Office has logged temperatures of several degrees above the average so far this week, and its experts predict the good weather is set to stay.
Last Wednesday saw temperatures reach 22 degrees (72F) in East Malling, Kent - the hottest day of the year so far, and in London yesterday it was 21C (70F) with the north and Midlands enjoying 20C (68F).
Temperatures are expected to approach the low-20s in the south east by the end of this week and the next few days should be generally warm and dry, with occasional showers in the west.