On Sunday, a significant windstorm called a derecho, swept across 5 states, knocking down trees and power lines across the South.
Southeast Texas, Central Louisiana, South Mississippi, South and parts of Central Alabama, and North Central Georgia all were affected.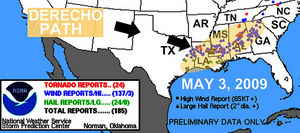 A derecho is a widespread and long-lived, violent convectively induced straight-line windstorm that is associated with a fast-moving band of severe thunderstorms in the form of a squall line, usually taking the form of a bow echo.