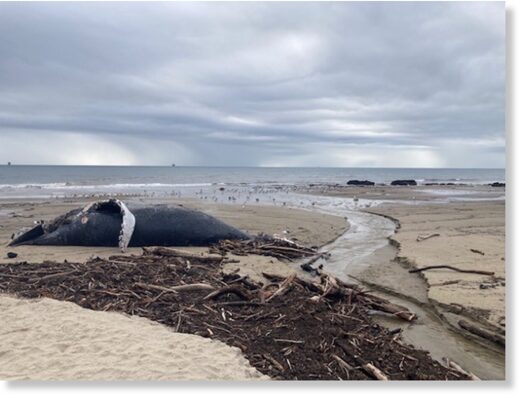 Locals taking an early-morning oceanside walk at Tajiguas Beach last week were in for a huge surprise when they found a 44-foot-long humpback whale washed up onto the sand.
Kevin Loughran, a resident who has lived in the area for nearly 30 years, takes a walk along the beach every day; shortly after sunrise, he received a call from a friend who had seen the whale. "I went down to see what was going on, and there she was," he said.
Loughran said this was the first time he had seen a whale washed up in the area, though it was more common to see smaller animals like seals and pelicans or, even more commonly, abandoned panga boats.
The whale — a young female humpback —had washed up during the morning high tide on New Year's Eve, and Loughran said he wanted to make sure the proper authorities knew about it. He contacted the Channel Islands Cetacean Research Unit, which studies abandoned or stranded whales, dolphins, and porpoises in the Santa Barbara Channel.