A major winter storm struck the northeast Friday morning, with snowfall causing massive delays at airports, closing schools and snarling traffic on streets and highways in the region.
Snow started falling earlier than expected, before daybreak, with four inches measured at mid-morning in Manhattan's Central Park. A total of six to nine inches was expected before the snow is to change to sleet and rain in the afternoon.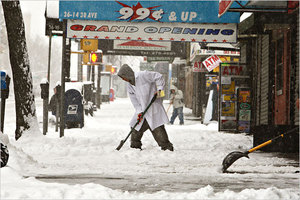 ©Unknown
Employees clearing snow in a commercial area in Queens.
Arrival delays of more than five hours were reported by the Federal Aviation Administration at Kennedy and Newark airports with a lesser delay of slightly more than three hours at La Guardia.