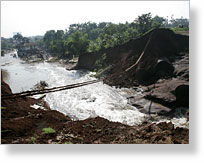 Heavy rains caused a large dam in a crowded urban area on the outskirts of Jakarta to burst early Friday morning, sending a deadly wall of water and mud crashing through hundreds of houses, killing at least 60 people, police said.
The dam broke at about 2 a.m., tearing through a low-lying valley, surprising residents in their sleep, witnesses said. Within minutes, several whole neighborhoods were ensconced in mud and water.
Rescue workers clawed through thick mud and dredged houses and roadways Friday afternoon looking for survivors. Hundreds of residents were being evacuated to a nearby university where family members were searching through bodies for loved ones. Police said the death toll could be higher as more victims are found.