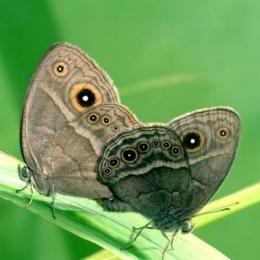 Butterflies seem able to both attract mates and ward off predators using different sides of their wings, according to new research by Yale University biologists.
Trying to find the balance between these two crucial behaviors is one of nature's oldest dilemmas, according to Jeffrey Oliver, a postdoctoral associate in Yale's Department of Ecology and Evolutionary Biology and lead author on the study, which appears online today in the journal
Proceedings of the Royal Society B: Biological Sciences.
"You want to be noticeable and desirable for mates, but other onlookers, including predators, are paying attention to those signals as well."
Oliver was interested in whether the eyespots on the upperside of butterflies' wings - specifically, those of bush brown butterflies - serve a different purpose than the ones on the underside. Ever since Darwin's time, biologists (including Darwin himself) have postulated whether the upperside patterns could be used to attract mates, while at the same time, those on the underside could help avoid predators.