Another cold snap is heading for the UK, as forecasters warn of the chilliest winter for 13 years.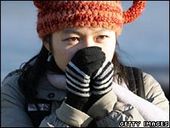 Icy winds from the continent will be felt in the south and east of the UK in the next few days, followed by a "blast of bitterly cold air" from Russia.
Temperatures in some areas are forecast to plunge from up to 7C (45F) on Saturday daytime, to between -1C (30F) and -3C (27F) on Sunday night.
BBC weather experts said snow was likely in some parts early next week.
Weather Centre forecaster Tomasz Schafernaker said daytime temperatures next week would be just above freezing, especially across eastern and central parts of the country.
He added there was a "risk of some snow flurries moving in from the North Sea", meaning eastern coastal areas are most likely to see snowfall.