Warm temperatures melted an area of western Antarctica that adds up to the size of California in January 2005, scientists report.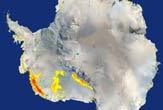 ©NASA/JPL
NASA's QuikScat satellite detected extensive areas of snow melt, shown in yellow and red, in Antarctica in January 2005.
Satellite data collected by the scientists between July 1999 and July 2005 showed clear signs that melting had occurred in multiple distinct regions, including far inland and at high latitudes and elevations, where melt had been considered unlikely.