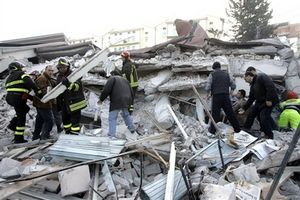 A strong earthquake measuring 6.7 on the Richter scale has rocked central Italy, killing at least 27 people and causing severe damage.
The early Monday temblor was centered in the Abruzzo region's capital l'Aquila, about 95 Kilometers (60miles) northeast of the capital Rome at a depth of 10 kilometers, according to the US Geological Survey.
Among the dead are an elderly woman and a baby girl who were crushed in a building in the medieval town of Fossa and four other children who died in l'Aquila when their house collapsed, local media reports said.
Police also confirmed that five other people were killed in the small town of Castelnuovo.