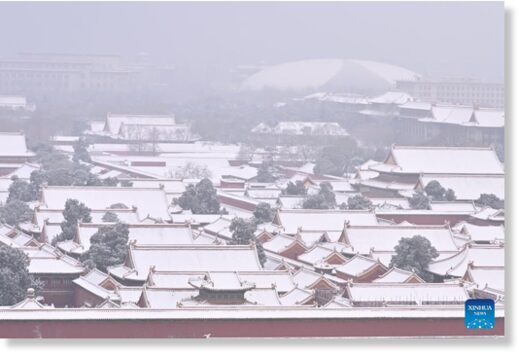 Overnight snowfall across much of northern China prompted road closures and the suspension of classes and train service on Monday.
A red alert for a blizzard was in effect until mid-morning in Zhengzhou, the capital of Henan province, and schools were closed there and in two other cities in Henan, state broadcaster CCTV reported. The Zhengzhou airport was also closed until 11 a.m.
A total of 134 road sections in 12 provinces, including 95 on highways, were closed as of 7 a.m. because of snowfall and icy conditions, CCTV said. Several trains in two parts of Shanxi province were suspended.
It was the first significant snowfall this year in much of China, outside of mountainous areas and in the northeast near the border with Russia's Siberia.
A thin layer of snow blanketed rooftops and parked cars in downtown Beijing. The roads were mostly clear and workers swept remaining snow from the sidewalks. The Beijing Public Transport Group said that 187 bus routes were suspended on Monday morning. Some subway lines were adding additional trains during the morning rush hour, CCTV said.