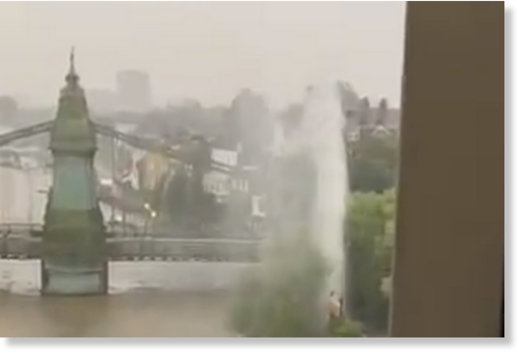 A Hammersmith resident was left stunned as a sewage-laden geyser shot 20 metres into the air outside of his home -
for the second time in 13 days.
Heavy rainfall battered the capital yesterday afternoon, causing a storm drain to burst open, spewing water and sewage into the air 100ft over Hammersmith Bridge.
Architect Peter Brill had witnessed the sight for the first time just two week earlier.
The Queens Wharf resident is now worried children are at risk of playing in the sewage if nothing is done to fix the issue.
Mr Brill said: "There was a rumbling sound before it exploded. Then it kept on exploding.
"It was like a geyser at Yellowstone National Park. It was very surprising. I was told 90 per cent is clear water but 10 per cent is sewage."