More than 320 people and thousands of livestock have been killed in Afghanistan this month in freezing weather and the heaviest snowfalls for 15 years, the country's disaster authority said Monday.
The latest figure from Afghanistan's National Disaster Management Authority is triple that issued by the agency five days ago.
The hardest-hit areas have been in the western province of Herat and its neighbouring provinces of Farah, Badghis and Nimroz -- all remote and mountainous regions near the Iranian border, the authority said.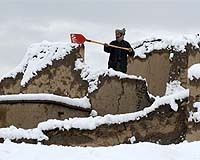 ©Unknown