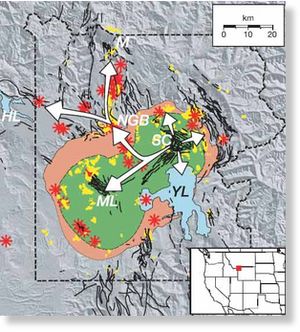 Yellowstone's ancient volcanic floor has been rising since mid-2004 because a blob of molten rock the size of Los Angeles infiltrated the system 6 miles beneath the surface, scientists say, but there is no risk of an eruption.
Yellowstone National Park is the site of North America's largest volcanic field, which is produced by a hotspot, or gigantic plume of hot, molten rock, that begins at least 400 miles (643 kilometers) beneath Earth's surface and rises to 30 miles (48 kilometers) underground, where it widens to about 300 miles across.
Occasionally, blobs of magma break away from the top of this plume and rise up to resupply the magma chamber beneath the park's "caldera," a 40-mile by 25-mile bowl-like depression and volcanic leftover whose walls you can see in the northwest part of the park.
These rising blobs of magma can sometimes push on the caldera floor, causing it to rise. Scientists monitoring the Yellowstone caldera think that's exactly what has caused the caldera floor to rise by almost 3 inches (7 centimeters) per year over the past three years - more than three times faster than it has more typically risen since observations began in 1923.
"Our best evidence is that the crustal magma chamber is filling with molten rock," said study leader Robert Smith, a seismologist at the University of Utah. "But we have no idea how long this process goes on before there either is an eruption or the inflow of molten rock stops and the caldera deflates again."