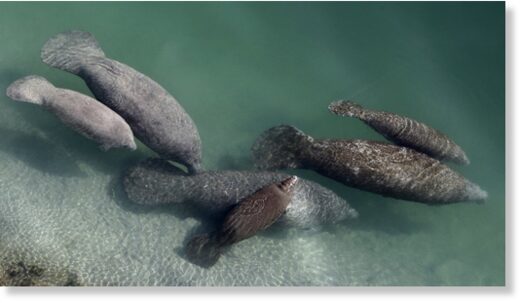 More than 1,000 manatees have died in Florida so far this year, eclipsing a previous annual record as the threatened marine mammals struggle with starvation due to pollution in the water.
The Florida Fish and Wildlife Conservation Commission reported the updated total on Wednesday.
The 1,003 manatee deaths so far in 2021 is many more than the 637 recorded last year and well above the previous mark of 830 set in 2013.
Slow-moving, bulky manatees have long struggled to coexist with humans. Boat strikes account for some deaths and many injuries. But state officials and environmental groups say polluted water runoff from agriculture, sewage and other man-made development has caused algae blooms in estuaries, choking off the seagrass upon which manatees rely. Climate change is worsening the problem.
Authorities expected another bad year for manatees, with more deaths to come as Florida enters the winter months when the animals congregate in warm-water areas where food supplies have dwindled. Seagrass beds on the state's eastern coast have been hit especially hard.