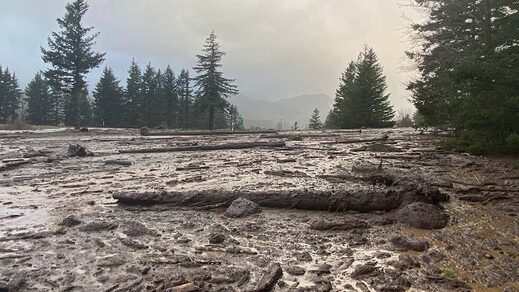 A powerful wind storm rolled through the Pacific Northwest, killing one person and leaving a trail of damage, including a highway shut down after a landslide and a tractor-trailer that was nearly blown off a bridge. More than 500,000 people lost power.
The death happened in Spokane, when a woman in her 40s died after a tree fell on her car and trapped her inside, city Fire Chief Brian Schaeffer said.
Winds reached gusts 50 to 70 mph in parts of the Puget Sound region as the storm blew through on the tail end of several inches of rain that left the ground saturated and conditions ripe for trees to fall, KOMO-TV
reported
.
High winds blew down trees across the greater Spokane region. Avista, a Spokane-based utility, reported that more than 70,000 customers were without power Wednesday morning. About 430,000 customers elsewhere in Washington state and in Oregon also lost electrical service, officials said.