At least nine people have been killed by heavy storms that are continuing to lash eastern Australia, officials say.
Gale-force winds and rising flood waters have forced the evacuation of thousands of people in New South Wales.
More than 130,000 homes remain without electricity around Newcastle and in Sydney.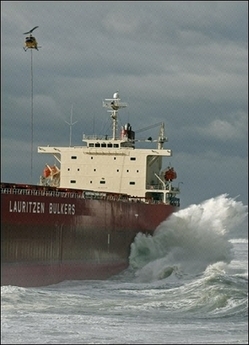 ©AFP/Torsten Blackwood
A helicopter lowers salvage equipment to the 'Pasha Bulker' which ran aground in wild seas near Newcastle. Rescue workers are urging thousands of people to evacuate their homes after deadly storms lashed Australia's east coast.