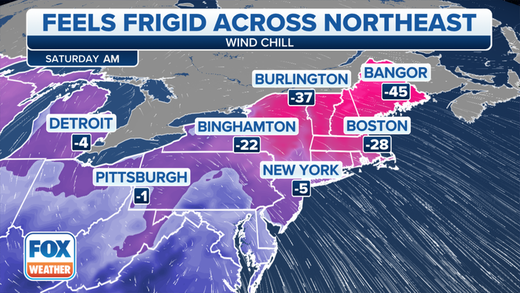 Wind chill warnings and advisories are active in upstate New York, northern Pennsylvania, far north New Jersey and all of New England
New England is preparing for some of the coldest air it's seen in five years as a "dangerous" polar vortex quickly moves into the Upper Midwest and Northeast, bringing sub-zero wind chills and plunging temperatures,
FOX Weather reports.
Places like Chicago and Des Moines, Iowa, will be the first to experience the bitter cold Friday morning as morning temperatures are forecast to be in the negative single digits. Other areas in the Midwest, like Northern Minnesota, could even see temps in the negative 20s or 30s.
The highs across the Midwest will struggle to make it out of the single digits Friday afternoon.
Wind chills are expected to be even worse, with feels-like temperatures dropping all the way to negative 50 in some areas. FOX Weather reports frostbite and hypothermia can form on exposed skin in as little as 10 minutes in this type of "dangerous cold."