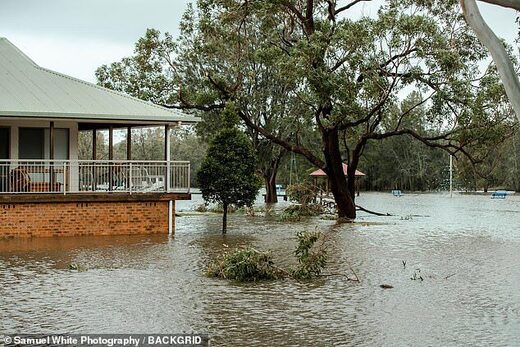 Coastal towns ravaged by unrelenting
bushfires
just six months ago are now suffering severe floods after days of wild weather.
A low pressure system off Australia's east coast brought 120km/h winds overnight and dumped more than 180mm of rain across several areas of New South Wales.
Dramatic pictures captured the extent of severe flooding, which forced some residents to evacuate and left about 14,500 homes and businesses without power.
The towns in Shoalhaven, on the NSW south coast, had only just began recovering from the bushfires, which left hundreds homeless.
'It's been a shocker. It's terrible we have to go through this all over again,' Shoalhaven City Mayor Amanda Findley told
Daily Mail Australia
on Tuesday.
'This is actually our second flood since the bushfires.