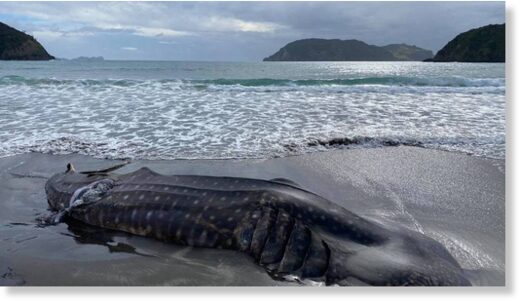 A morning stroll on the beach turned into a bit of a spectacle when Zane Broadbelt suddenly spotted what looked to be a stranded whale.
He and his partner, Laura, were walking along the beach at Harataonga, on Great Barrier Island, when they made the discovery on Sunday.
"I just saw a lump in the sand," he told the
Herald
.
On closer inspection, they realised it was a dead whale shark.
"It was about 6m long and looked like it had been there for about a week.
"I've never seen a whale shark before. It's not something you expect to see around here, especially at this time."
The Department of Conservation confirmed their staff responded to a public sighting of the dead whale shark last Thursday.
It was a significant find as although whale sharks migrate annually to New Zealand waters, this was the first recorded stranding in New Zealand, a DoC spokeswoman said.