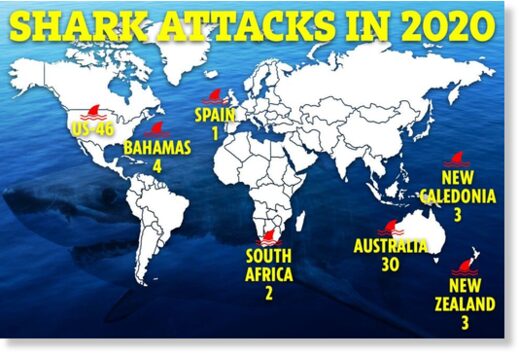 A RECENT study found that the US experienced the most shark attacks in the world last year, surprisingly beating out Australia and South Africa.
The study by
Florida Panhandle
found that the US had 46 attacks in 2020, far and away the greatest of any country, with Australia coming in second with 30 attacks and the Bahamas third with just four attacks.
However, the fatality rate of the attacks was just 6.5 percent in the US, while a whopping 30 percent of Australian attacks were fatal.
Additional insights provided by the study include that 95 percent of shark attacks are unprovoked, and are most likely in the afternoon and on a Sunday.
Surprisingly, although the Great White Shark - the iconic species of the Jaws movie series - had the most attacks, its fatality rate was lower than that of the Tiger Shark.
The Great White had 19 attacks with a 31.6 percent fatality rate, while the Tiger's had seven with a 57.1 percent fatality rate.