The first storm of the season sent boulders crashing into two O'ahu homes yesterday, caused power outages across much of the island and triggered sewage spills totaling nearly 2 million gallons.
And more rain is on the way.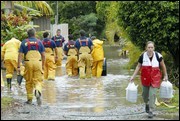 ©Deborah Booker / The Honolulu Advertiser
Firefighters push a pump through the floodwater to drain driveways of homes on Kalaheo Avenue in Kailua.