Satellite imagery over the last two days has shown Typhoon Morakot to be a monster, and over the last two days, NASA satellites have confirmed the typhoon doubled its size!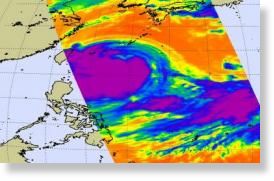 "Our satellite scan swath width is 1700 kilometers (1,056 miles) and Morakot looks to be almost that much in diameter in the infrared imagery on August 5," said Ed Olsen, of NASA's Jet Propulsion Laboratory in Pasadena, Calif. Olsen provides images for the Atmospheric Infrared Sounder (AIRS) instrument on the Aqua satellite. "On August Morakot was only about 1/2 the width of our swath width, near 850 kilometers (528 miles) in diameter!"
To put it into perspective, 1,056 miles is longer than the distance from Philadelphia, Pennsylvania to Orlando, Florida. Olsen said that it's important to know that satellite image represents the lateral extent of the cold cloud tops and that the winds definitely do not extend over an area 1,000 miles in diameter.