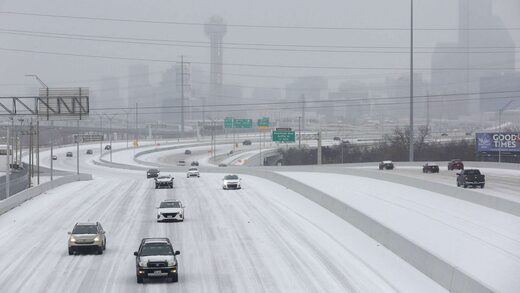 As hundreds of thousands remain without power in Texas on Thursday amid
frigid temperatures and icy roads
, the Northeast is bracing for a blast of bitterly freezing air that forecasters say could be the coldest felt in decades.
Texas has been bearing the brunt of a dangerous ice storm that dumped several rounds of sleet and freezing rain, causing life-threatening road conditions in surrounding states including Oklahoma, Arkansas and the Memphis area in Tennessee.
On Wednesday, Texas reported a third person had died during the storm after losing control of her truck on an icy road north of Eldorado. One person was killed in Austin in a 10-car pileup, and another person died after their car rolled over in the Dallas-area city of Arlington, officials said.
And while Thursday is expected to bring some relief from the deadly storm as temperatures slowly rise,
the piling of multiple layers of ice and sleet has snapped tree branches and limbs and led to power outages for nearly 400,000 homes and businesses in Texas
as of Thursday morning, according to
PowerOutage.us
. That means thousands of people likely don't have proper heating or hot water as ice coats the ground.