A shift from poverty-driven to industry-driven deforestation threatens the world's tropical forests but offers new opportunities for conservation, according to an article coauthored by William Laurance of the Smithsonian Tropical Research Institute in Panama.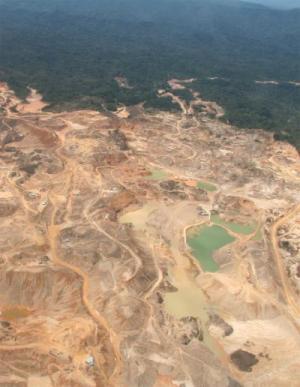 ©Rhett A. Butler
Gold mine in the Amazon rainforest.
Rhett Butler of
Mongabay.com
, a tropical-forest Web site, and Laurance argue that the sharp increase in deforestation by big corporations provides environmental lobby groups with clear, identifiable targets that can be pressured to be more responsive to environmental concerns.
"Rather than being dominated by rural farmers, tropical deforestation is increasingly driven by major industries - especially large-scale farming, mining, and logging," said Laurance. "Although this trend is pretty scary, it's also much easier to target a handful of global corporations than many millions of poor farmers."
The United Nations estimates that some 13 million hectares (33 million acres) of tropical forest are destroyed each year; but these numbers mask a transition from mostly subsistence-driven to mostly corporate-driven forest destruction, say Butler and Laurance.