Earth Changes
Sciare che Passione - Skimania.it
YouTube
Sun, 19 Sep 2021 13:11 UTC
---
ITV
Fri, 17 Sep 2021 12:32 UTC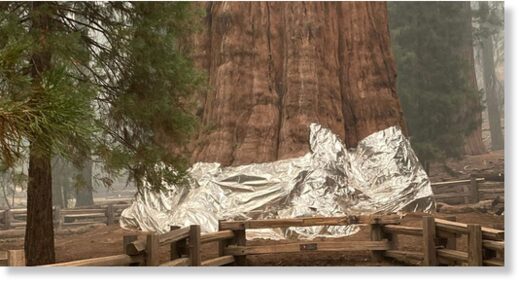 Firefighters are attempting to save the world's largest tree from wildfires in the US by wrapping it in aluminium foil and starting their own fires to burn away flammable material.
The famous grove of gigantic old-growth sequoias is under threat from wildfires burning in California's rugged Sierra Nevada.

The world's largest tree by volume, The General Sherman, in Sequoia National Park's Giant Forest, was wrapped in protection against the possibility of intense flames.

Several key buildings and other sequoias were also wrapped.
The aluminium wrapping can withstand intensive heat for short periods.
---
TOPE OMOGBOLAGUN and TONY OKAFOR
Punch
Sun, 19 Sep 2021 10:53 UTC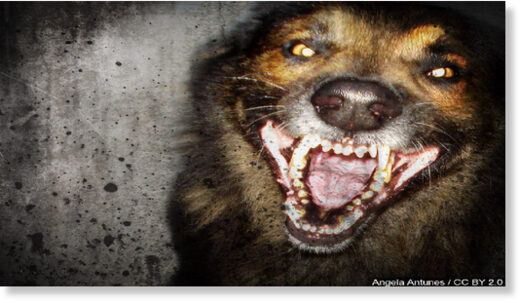 Ten dogs belonging to the Proprietor of Global Growth Academy, Amokpo, Umuanunwa, Nteje in the Oyi Local Government Area of Anambra State have reportedly pounced on and killed a three-year-old child on the school premises.
The incident was said to have happened around 7.10am on Wednesday, September 15, when the victim, identified as Obinna Ude, was taken to the school by his uncle, Chima Ude, for enrollment.
According to a resident of the community, the three-year-old strayed off while his uncle was filling forms and perfecting the enrollment documentation.

The 10 dogs, on sighting the child, broke out of their cage, pounced on the boy and mauled him.
---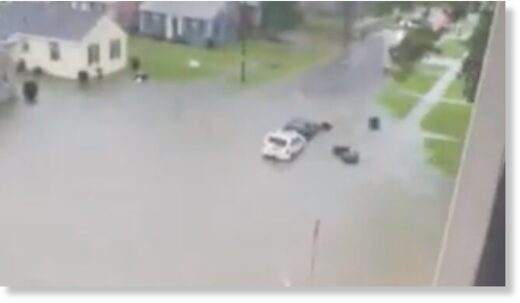 Streets and yards in Tuscaloosa, Alabama, were filled with flood water on Saturday when Tuscaloosa County was under a flash flood warning, which occurs when flash flooding is either eminent or already occurring.
Several cars
were stuck in the flood water after trying to drive through it, according to the Tuscaloosa County Emergency Management Agency. One person was trapped in their car, the agency reported.
The University of Alabama also reported via social media that the campus had experienced some flooding and warned drivers to avoid campus. By 3 p.m., however, the university announced that all streets on campus were cleared but still warned drivers to be cautious, as more rain throughout the evening could potentially lead to more flooding.
Flood waters were so deep on some streets that residents were even able to swim in it,
as one resident in the area captured a video of and shared to Twitter. The Willowbrook Trailer Park in
Northport, Alabama,
was also flooded.
---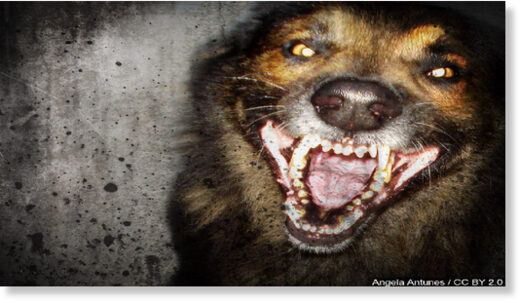 A 33-year-old man from Sopore, who was grievously injured in a canine attack some 12 days ago, succumbed at home Saturday evening.
Reports said the victim Shabir Ahmad Dar, son of Ali Mohammad Dar, a resident of Sangrampora in Sopore, was attacked by dogs at Main chowk Sopore on September 06, 2021.
He was brought to SMHS Hospital in Srinagar from SDH Sopore. After treatment, he was discharged from the hospital. However, today evening he succumbed to his injuries, locals said.
---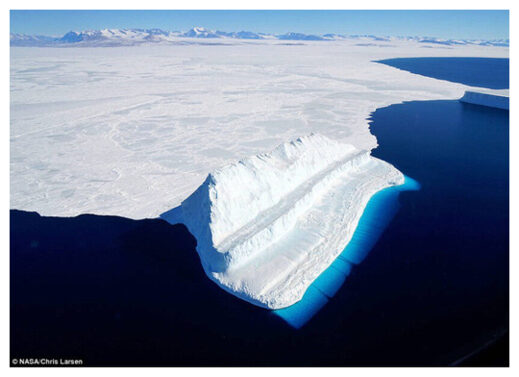 East Antarctica, which covers two thirds of the South Pole, has cooled a whopping 2.8°C over the past 4 decades; West Antarctica approximately 1.6°C. ..only tiny Antarctic Peninsula saw statistically insignificant warming.
German climate website
Die kalte Sonne
posted its
64th climate video here
and examined a new paper on Antarctica by Zhu et al (2021): "
An Assessment of ERA5 Reanalysis for Antarctic Near-Surface Air Temperature
"
The European Center for Medium-Range Weather Forecasts (ECMWF) released its latest ERA5 reanalysis dataset in 2017 and Zhu and his researchers compared the near-surface temperature data from ERA5 and ERA-Interim with the measured data from 41 weather stations.
They found that the temperature trend from ERA5 is consistent with that from observations.
The result: a cooling trend dominates East Antarctica and West Antarctica while a warming trend exists in the Antarctic Peninsula.
Note that the regions of east and West Antarctica combined are vastly larger than the tiny Antarctic Peninsula.
---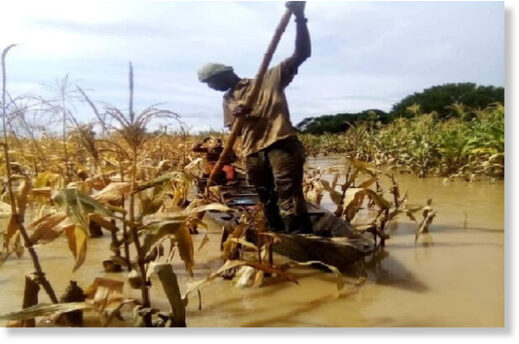 The Upper West regional coordinator of the National Disaster Management Organisation (NADMO) Ahmed Mustapha has warned of a possible food shortage if the Ministry of Food and Agriculture fails to institute interventions immediately to deal with the effect of floods in the Upper East region.
He revealed that some five thousand acres of farmland have been destroyed by floods in the area over the last six weeks.
He indicated that the region has been a the largest producer of maize but with the effect the floods, there is going to be challenge in the production of the commodities.
"As at last week, the total acres that have been washed away by this flood in the Upper West region is about 5000 acres of farmlands.
Half of this figure is on the Wa East district and the food basket of the Upper West region.
"The Sisala enclave, from the Wa East, Sisala East and Sisala West, they do a lot of farming and they were the highest producer of maize as at last year.
---
EXTREME FLOODING
YouTube
Sat, 18 Sep 2021 13:24 UTC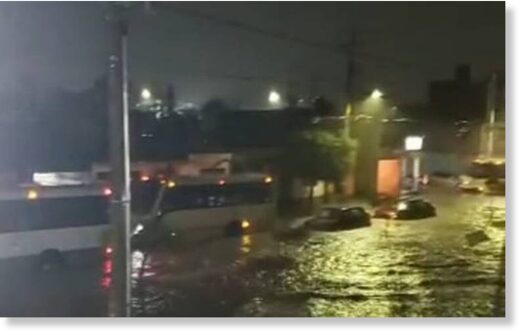 Flash floods on September 17 2021 in San Juan del Río, in the central Mexican state of Querétaro.
A severe storm, which caused heavy rain that fell during the night of this Friday inundated some streets in the eastern part of the municipality and presented a significant increase in water, even residents of the Sacred Heart on Andador Santa Alicia street, indicated that there is blocked entry to their homes, so they asked for the support of the authorities.
Most of the flash flooding damage is located on one side of Avenida Universidad, where a boardwalk was previously located and the area was divided, so it is a natural area where the rainwater had its channel. Around 10 p.m., Vega Guerrero confirmed on social networks the warning light turned red, for which he activated the evacuation of families from 29 neighbourhoods to take them to the temporary shelter located in the Ramos Millán neighbourhood.
In Mexico, from September 16 to 17, a total states with rain (greater than or equal to 25 mm) was 23. Total states with severe storms (equal to or greater than 75 mm) was 8.
---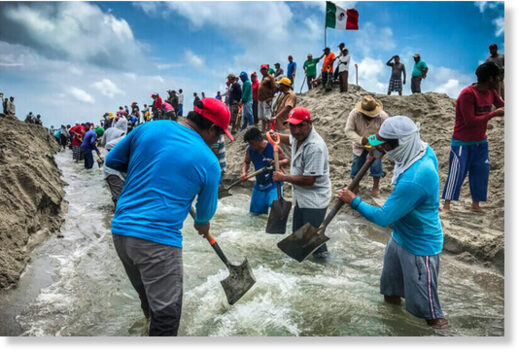 San Mateo del Mar has been inundated for days and left without aid
Heavy rain in the Isthmus of Tehuantepec region of Oaxaca caused flooding in several communities this week.
One of the worst affected areas is San Mateo del Mar, a small municipality on a thin strip of land between the Pacific Ocean and Laguna Superior.
Neighborhoods near the lagoon, such as Santa Cruz, Barrio Nuevo and San Pablo, have suffered the worst flooding, a local fisherman told the newspaper
Reforma.
---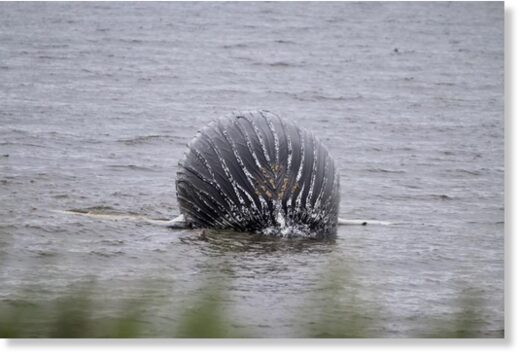 A 40-foot-long humpback whale was founding floating in the water off the shores of Staten Island early Friday.
Video of the whale was first posted on Citizen shortly after 9 a.m., showing its body just yards away from the shoreline of Great Kills Beach.
Rob DiGiovanni, the founder and chief scientist at the Atlantic Marine Conservation Society, says that their nonprofit is currently working with authorities and the New York City Parks Department to figure out how to get the whale out of the water for examination and proper disposal.
While it is still too soon to know what led to the whale's death, DiGiovanni says that many humpback whales end up washing ashore after being killed in what they call human-induced mortality events, such as vessel strikes or entanglement issues.
---