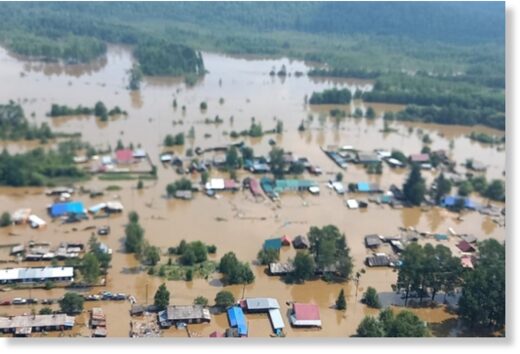 Regions of Russia's Far East are facing yet another wave of flooding after days of heavy rain caused river levels to rise.
Yevgeny Zinichev, head of Russia's Ministry of Emergency Situations EMERCOM, visited areas of Amur and Jewish Autonomous Oblasts (regions) on 07 August 2021. He described the situation as "extremely difficult".
In Amur Region, the Amur, Zeya, Selemdzha, Tom and Zavitaya rivers are all flowing above flood stage
. As of 09 August, 182 homes were flooded, including 67 in the district of Belogorsky, 12 in Blagoveshchensk, 25 in Seryshevsky and 19 in Selemdzhinsky. Over 50 people have evacuated their homes and were staying in 3 temporary shelters. Furthermore,
1 bridge is damaged and 40 sections of highways are flooded leaving 28 settlements cut off by road.