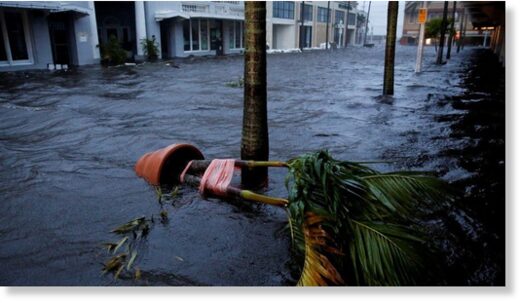 Ian was expected to dump 12 to 18 inches of rain on much of central and northeast Florida, with some locations being hit with as much as 2 feet of rain.
Hurricane Ian made landfall on Florida's Gulf Coast on Wednesday, lashing the region with torrential rain and winds of 150 mph and knocking out power to more than 2 million homes and businesses.
The "catastrophic" system, one of the most powerful hurricanes to strike the U.S. in decades, came ashore near Cayo Costa, just west of Fort Myers, around 3 p.m. after strengthening to a powerful Category 4 storm, the National Hurricane Center said.
Hours after landfall, top sustained winds had dropped to 105 mph, making it a Category 2 hurricane. Still, storm surges as high as 6 feet were expected on the opposite side of the state, in northeast Florida.
"Our streets are pretty much underwater," said Mike McNees, the city manager on Marco Island. "The streets, at this point, are indistinguishable from the canals."