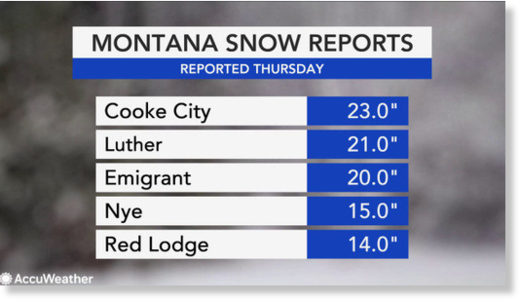 The proverb 'April showers bring May flowers' might not apply to the north-central United States this year as the start of the new month brought a far-reaching snowstorm to the region.
The largest snowfall accumulations were reported in the higher elevations,
with a general 10 to 20 inches of snow falling over the mountains of Wyoming and Montana. One mountain just north of Cooke City, Montana, was buried under 23 inches of fresh snow, the highest snow total reported across the region.
By daybreak on Thursday, most of the snow had shifted over the Dakotas as the storm tracked eastward,
covering the Black Hills with nearly a foot of snow.
Rapid City, South Dakota, measured 6.5 inches on Wednesday, making it the snowiest start to April on record
, according to the National Weather Service office in Rapid City. The previous snowfall record for April 1 was 3 inches set back in 1927. A few more inches of accumulation are in the forecast before the snow tapers off by the weekend.