Scientists using nationwide data collected since 1970 have produced a map depicting natural hazard mortality across the United States.
Susan Cutter and Kevin Borden from the University of South Carolina said their map presents a county-level representation
of the likelihood of dying as the result of natural events such as floods, earthquakes or extreme weather
.

Comment: Or, perhaps cometary impact?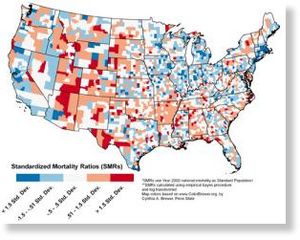 "This work will enable research and emergency management practitioners to examine hazard deaths through a geographic lens," the researchers said. "Using this as a tool to identify areas with higher than average hazard deaths can justify allocation of resources to these areas with the goal of reducing loss of life."