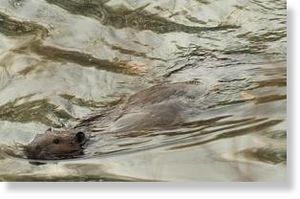 New York City's most famous beaver, José, has come home for the holidays! After a year-long hiatus, José - the first wild beaver to return to New York in at least two centuries - is back at the zoo and has even cut down his own Christmas tree, which he is now using to construct a new lodge on the Bronx River.
Beavers were once widespread throughout the region, but were wiped out due to fur trapping.
José, named for tireless Bronx River champion Congressman José E. Serrano, was initially spotted at the zoo in early 2007. After building a lodge on the zoo grounds, José eventually moved upriver to the New York Botanical Garden in the summer of 2007 and lived there for several months before vanishing to parts unknown. Then last week, he was spotted at the Bronx Zoo nibbling on a large tree he had just cut down along the Bronx River.