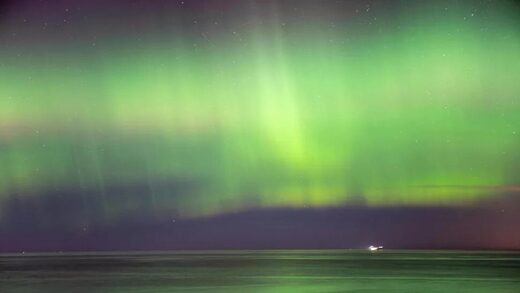 A powerful solar storm that
swept across Earth on Monday (Feb. 27)
forced SpaceX to delay a Starlink launch from Florida and temporarily disrupted operations of several Canadian oil rigs as GPS signals were too inaccurate.
SpaceX eventually launched
those satellites, the first batch of 21 second-generation
Starlink
internet spacecraft
, at 6:13 p.m. ET (2313 GMT) on Monday after the geomagnetic storm, classified by the U.S. National Oceanic and Atmospheric Administration (NOAA) as a strong G3 storm subsided. Liftoff occurred about 4.5 hours after the originally scheduled launch time.
SpaceX has been cooperating with NOAA
since a mishap

in

February last year, which saw the company lose a batch of 40 satellites after launching them right into a relatively mild geomagnetic storm

.

Comment: It doesn't seem to be a 'mishap', because SpaceX had probably done their homework; what they didn't, and probably couldn't fully account for, is how the atmosphere is clearly changing. Note that it was a 'relatively mild geomagnetic storm', but the impact it had seems to have been much greater than expected; as is the case with the report on this recent storm.