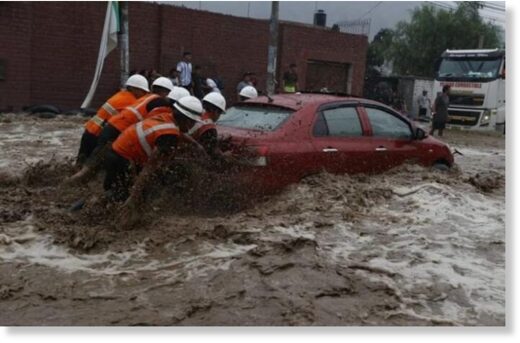 The heavy rains accompanying Cyclone Yaku led to flooding Wednesday in seven districts of Peru's capital,
a desert city that rarely experiences significant precipitation.
Prime Minister Alberto Otarola said the government will declare a state of emergency in the beachfront district of Punta Hermosa, which suffered a massive mudslide during the overnight hours.
Cabinet ministers are "directing aid and coordinating with the local authorities" in all of the affected areas of the Lima metropolitan area, which includes the port city of Callao and is home to nearly a third of Peru's 34 million people.
In Cieneguilla, on the eastern side of the capital, district Mayor Emilio Chavez told TVPeru that rain-driven mudslides forced some 2,500 residents from their homes.
The houses of at least 100 families were completely destroyed, he said.