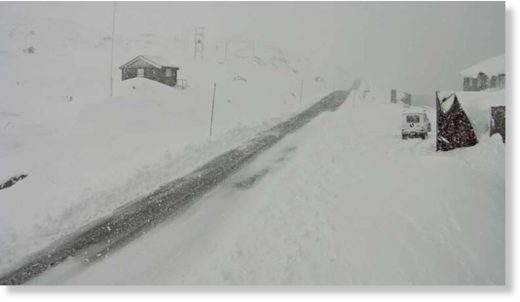 Winter came early over the weekend, with stormy weather dumping up to 20 centimeters of snow in some areas of the mountains while also wreaking havoc over wide areas of Vestlandet (Western Norway).
Strong winds knocked down trees and power lines, leaving thousands without power, while others were evacuated after heavy rain led to more flooding and landslides.
It was another wild weekend, and many roads remained closed Monday morning. Among them were RV52 over Hemsedalsfjellet and 10 county roads from Lærdal and Geiranger to Stryn. The popular FV63 better known as Trollstigen was also abruptly closed because of the weather, disappointing autumn tourists.
The biggest problem were the powerful wind gusts that also swept over many areas where skies were blue and the sun was shining, including the Oslo area. The southern cities of Kristiansand and Arendal were hit hard, with local utility companies scrambling to restore electricity after countless trees fell over power lines