Earth Changes
Tetova News
YouTube
Sat, 23 Oct 2021 14:00 UTC
---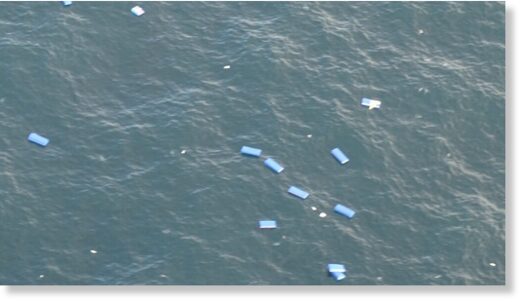 The Canadian Coast Guard and United States Coast Guard are warning boaters after 40 shipping containers were tossed from a cargo ship Friday in rough seas off Vancouver Island.
The containers were adrift approximately 69 kilometres west of Vancouver Island just before 3 p.m., according to U.S. officials. (USCG)
The cargo vessel
Zim Kingston
was inbound for Vancouver when it listed to one side, dropping the containers into the ocean near the mouth of the Strait of Juan de Fuca, the authorities said.
The U.S. Coast Guard Navigation Center sent out a broadcast to mariners Friday afternoon warning that the lost containers may be partially submerged and not easily visible from the surface.
"Mariners should exercise extreme caution" when transiting the region, the centre warned.
The Canadian Coast Guard also sent out a notice on NavWarn about the affected area.
---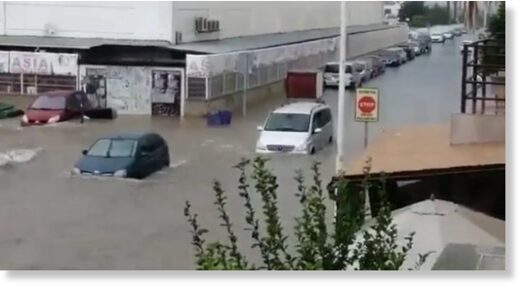 According to the State Meteorological Agency, AEMET, Alicante province endured some exceptional spells of rainfall during Friday, October 22.
In the southern half of the Valencian Community, especially in the Vega Baja del Segura area, where the Dama de Guardamar school was forced to be evacuated.
As reported by the Emergency Coordination Centre on its Twitter account, around 30 cars were reported as stranded in floodwater caused by the heavy rains in urban areas of this Alicante region.
By about 2pm the rains had stopped and started to head north from Vega Baja, where they hit Baix Vinalopo and Alicante.
Here the storms deposited significant amounts of more than 70 litres/m² of rain in the municipality of Torrevieja.

Comment: Almeria further south was also hit by heavy flooding on the same day:




---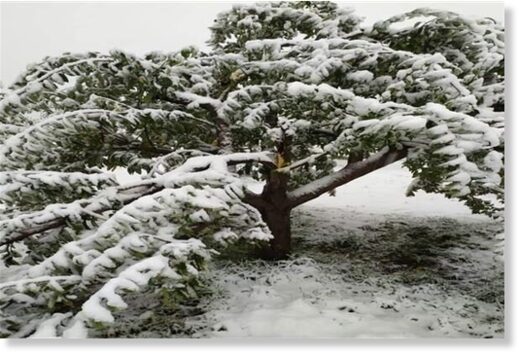 The untimely snowfall that started from Friday night in Kashmir has come not just too early in the season but also as a blight on the valley's apple orchards.
Reports reached Rising Kashmir from south Kashmir's Shopian district said the orchards haves suffered extensive damage caused to apple trees due to the
heavy snow that accumulated on leaves and branches.
---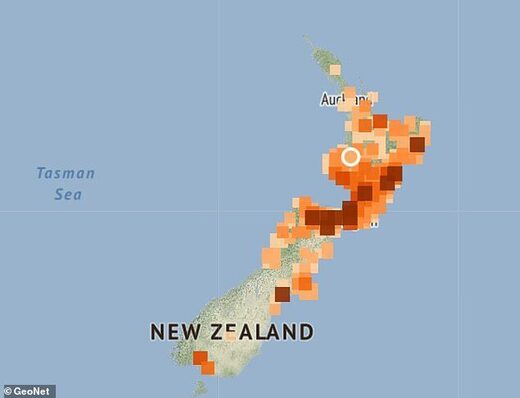 New Zealand has been hit by a huge 5.9 magnitude earthquake that was felt across the country - with buildings shaking on both islands.
The quake struck near Nueva Plymouth on the North Island, but was felt as far south as Christchurch on the South Island, at 10.58am local time on Friday.
GeoNet said the quake was recorded at a depth of about 210km and was originally measured at 5.4 magnitude before being upgraded to 5.9.
New Zealand Prime Minister Jacinda Ardern was briefly rattled by the tremor, which struck as she was addressing the nation for a Covid-19 update.
---
Richard Davies
Floodlist
Fri, 22 Oct 2021 14:54 UTC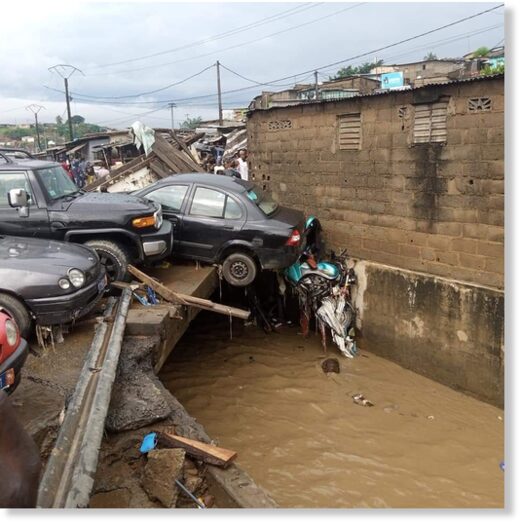 At least 4 people have died and several were injured after heavy rain caused flooding and severe material damage in parts of the city of Abidjan, Côte d'Ivoire (Ivory Coast) in West Africa.
Heavy rain caused buildings to collapse as well as flooding and landslides in several parts of the city. Roads were blocked and vehicles left stranded in flood waters. Images shared on Social Media showed wrecked cars and damaged homes.
The municipalities of Yopougon, Attécoubé, Abobo and Adjamé were among the worst affected. GSPM firefighters helped rescue or evacuate people from floods and damaged buildings. As of 22 October, GSPM reported 4 fatalities and 4 people injured.
---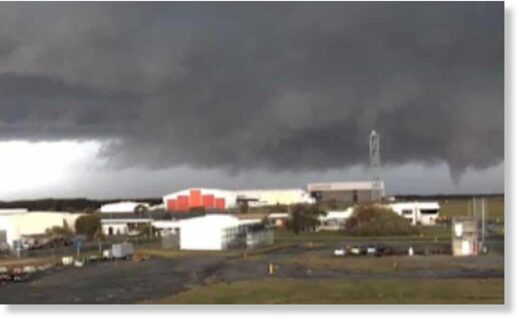 A tornado has damaged buildings at Brisbane airport as a supercell thunderstorm battered south-east Queensland.
The Bureau of Meteorology confirmed a tornado formed near the airport at about 10am on Friday, with video footage showing it touching down for only a minute or two.
The storm cell hit about 11am, with footage taken at the airport showing catering pods being blown around on the tarmac near a boarding gate.
The Brisbane Airport Corporation (BAC) said there was some damage, mainly centred on the international terminal.
---
Cory Smith & Jeff Morgan
ktul.com
Thu, 21 Oct 2021 12:24 UTC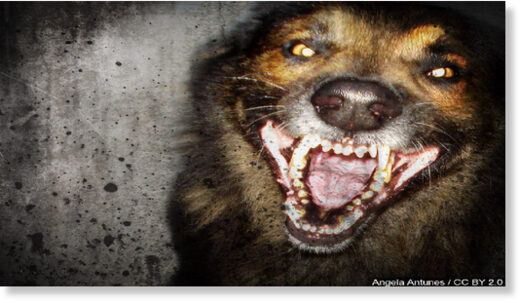 A child who died Wednesday night was apparently attacked by a family dog, the Creek County Sheriff's Office said Thursday.
Details about the child, such as age, were not provided.
The Sheriff's Office said it got a call around 7:20 p.m. about a missing child south of Kiefer. After deputies got there, a family member found the child on the property, and the child was pronounced dead soon after.
The dog is being held at an animal control facility.
---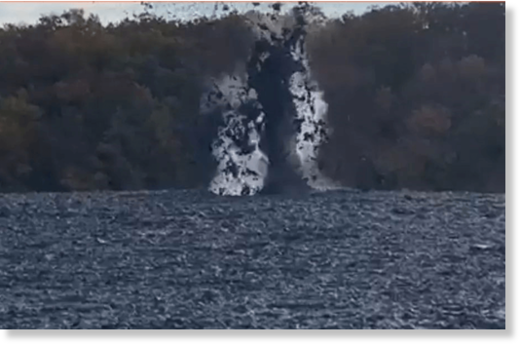 Not far from the village of Varenikovskaya, the active mud volcano Shugo began to erupt. Its height reaches 163 meters. It is the largest in the Kerch-Taman volcanic region.
The volcano is very dangerous. Hot mud flies out of its craters, which scatters several tens of meters. But now the craters are inactive: rare and unstable ejections can be observed.
According to the head of the Crimean region, Sergei Les, the volcano has been active for many years. His incessant work is associated with the growth of the Caucasian mountain system.
Volcanic mud, which contains bromine and iodine, is regularly replenished. Now Shugo is under protection and will be closed for tourists for the time being for safety reasons.
(Translated by Google)
---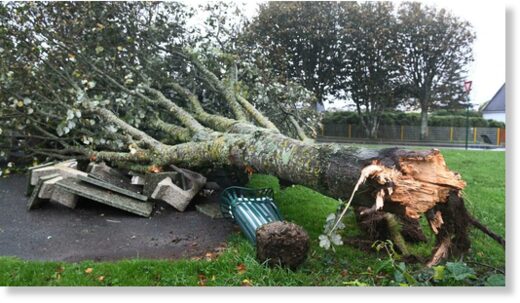 A powerful autumn storm, named Aurore, blasted parts of western Europe on Thursday, knocking out power to a quarter of a million French homes and damaging buildings in at least four countries.
Train services were disrupted by uprooted trees littering tracks in France, Germany and the Netherlands and roofs were ripped off many buildings,
including at part of the stadium used by the professional soccer club in the Belgian port city of Antwerp.
A tornado early Thursday caused damage in Schwentinental,
a town near the German Baltic Sea port city of Kiel. Fire service official Kai Laessig told German news agency dpa that it destroyed greenhouses and brought down trees, which hit cars, but no one was injured. Several houses were damaged.
---