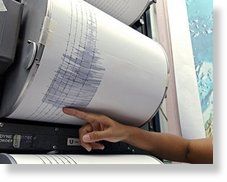 Wellington, New Zealand - Two powerful earthquakes rocked the South Pacific near the Vanuatu archipelago Thursday morning, the U.S. Geological Survey reported, triggering a regional tsunami alert.
The first quake, with a magnitude of 7.8, struck 183 miles (294 kilometers) northwest of the Vanuatu island of Santo, and 354 miles (596 kilometers) northwest of the capital of Port Vila, at a depth of 21 miles (35 kilometers).
Just 15 minutes later a second quake with a magnitude 7.3 hit at the same depth but 21 miles (35 kilometers) farther north of Santo and Port Vila.
The Pacific Tsunami Warning Center immediately issued a regional tsunami warning for 11 nations and territories, including Vanuatu, the Solomon Islands, Papua New Guinea, Nauru, Fiji and Kiribati. A tsunami watch was in effect as far as Australia and New Zealand.